Ealing Parent Carer Forum
---
Ealing Parent Carer Forum - A parent carer forum is a group of parents and carers of disabled children who work with local authorities, education, health and other providers to make sure the services they plan and deliver meet the needs of disabled children and families.
---
Dear Friend of HACS,
We still have places!!!
DATE: Thursday 19th October 2017, 10.00am – 1.00pm
WORKSHOP: Transferring to an EHCP – Legal Advice Workshop
SPEAKER: Melinda Nettleton, Solicitor at SEN Legal
VENUE: HACS Resource Centre, Dudley Place, Off Pinkwell Lane, Hayes UB3 1PB
PRICE: Members £20pp / Non-members £40pp / Professionals £40pp
WHO CAN ATTEND? Parents, Carers and Professionals
How to book
For more information, please find the publicity attached.
To book your place you will need to complete the booking form which can be found on the back of the publicity attached.
When you have completed your booking form please email this to catherine@hacs.org.uk or post to HACS, Dudley Place, Hayes, UB3 1PB. If you are finding it difficult to print/complete the booking form, bookings can be taken over the phone. Please call 0208 606 6780 and ask for Catherine Ford.
Your booking will be confirmed once payment has been received.
Kind regards
Catherine Ford
Autism Advice Worker
Hillingdon Autistic Care & Support
Dudley Place
Hayes
UB3 1PB
0208 606 6780
---
Please find attached information on issues that were discussed and presented at last week's " Drop In" session on Housing and supported living for all those who are interested but couldn't make it to the meeting. Gabriel kindly summarised the meeting and sent through the Certitude presentation.
Similar information is contained in the link below with some additional info.
KOMUNIKAT KOMENDY DZIELNICOWEJ EALING
Komenda Policji dzielnicy Ealing postanowiła pomóc tym, którzy mają problem z komunikacją w języku angielskim oraz tym, którzy nie wiedzą gdzie i do kogo zgłaszać się ze swoimi problemami.
W tym celu planowany jest dyżur oficera policji mówiącego w języku polskim na posterunku w Greenford 21 Oldfield Lane South, UB6 9LQ. Policjant mówiący w języku polskim będzie dyżurował w każdy wtorek w godzinach 16:00-20:00. Dyżury rozpoczną sie we wtorek 19/01/2016.
Zapraszamy wszystkich, którzy mają jakiekolwiek pytania lub problemy!
Announcement for Polish Community in Ealing
A survey has recently revealed that the Polish community struggles to communicate with officers due to the language barrier.
Therefore, we are facilitating a surgery for the Polish community every Tuesday between the hours of 1600-2000 at Greenford Police Station. Polish officers will be present to assist in engagement. The surgery will begin on 19/01/2016.
Please find a flyer above which explains where the surgery will take place, date and what time.
---
Dear all,

Please find attached information on specialist BMX riding sessions for children with additional needs?
The sessions have been recommended to us by a parent whose child with ASD is currently attending the club.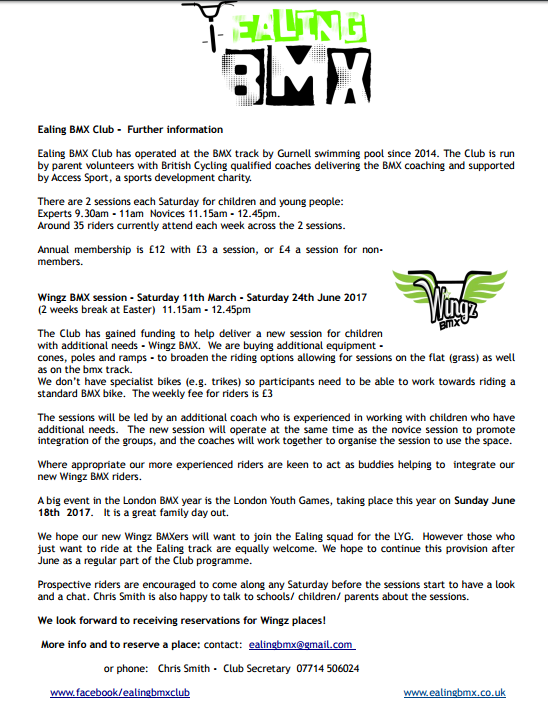 ---
VUE and ODEON autism friendly cinema screenings
At Dimensions we work with ODEON, Cineworld, Vue and Showcase to host Autism Friendly Screenings at over 250 cinemas nationwide screenings every month. Listed below are the participating sites for autism friendly cinema screenings with ODEON in our area,
Uxbridge - ODEON
Richmond - ODEON
Acton- VUE
shepards bush - VUE
Check out the website for further information
https://www.dimensions-uk.org/families/autism-friendly-screenings/
---
Jack Tizard School and The Big Splash Trust
(recommended to us by several parents!)
After school and Saturday swimming (primary 3-11 years and secondary 11-25 years) as well as summer holiday schemes
Jack Tizard School
South Africa Road
London
W12 7PA
0208 7353597
Email: pool@jacktizard.lbhf.sch.uk or: hydropoolmanager@jacktizard.lbhf.sch.uk
Websites: http://www.jacktizard.lbhf.sch.uk/
Tel: 0208 7353597
women only swimming #ThisGirlCan
Exclusive women's only sessions at selected centres in Ealing, Harrow and Brent.
Ask for details at Everyone Active Centres
Everyone Active Acton 02088259001
Northolt Leisure Centre 02084237436
Vale Farm Sports Centre 0208 9086545
Hatch End Swimming Pool 0208 4288041
Sports M.A.T.E
Supporting young people with disabilities to access sport and leisure opportunities. If you are motivated to get involved with a sport or leisure club and want support to do this through Sports M.A.T.E then please contact your local Sports M.A.T.E delivery partner:
Chris Tribe, Tel: 0208 3267030, email: ctribe@brentfordfccst.com
Wheelchair Tennis
Ealing LTC, Daniel Road, Ealing W5 3%Y, www.ealingtennis.com
At Ealing Lawn Tennis Club. We have coaches, chairs, rackets and balls. All we need is you!
(£3 per hour offer, equipment provided, free parking, easy access to facilities)
Please email: chris.sordyl@sky.com,
Tennis Sessions for people with learning disabilities (Ealing)
Description: Tennis sessions for young people with learning disabilities. This session runs during term time only. Exciting and fun way to play and learn a new sport. Tennis is a great way to keep fit, improve confidence, hand/ eye coordination and integrate into a thriving West London tennis club. This new initiative aims to get young people playing tennis in a safe, fun and friendly environment.
Time: Thursdays 11am-12pm
Location: West Middlesex Lawn Tennis Club, 6 Berners Drive W13 0JS
Costs: £5.00 per session
Contact: tel: 0208 9983297 or email: info@westmiddlesexltc.co.uk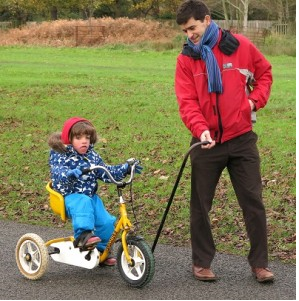 Companion Cycling in Bushy Park
(recommended to us by a parent!)
Welcome to Companion Cycling
We're a community resource to help everyone enjoy the fun of cycling, by offering unique access to specialised cycles in a beautiful park on the southwest edge of Greater London. Our hire scheme is available to individuals, families and organisations (e.g. schools, day centres or clubs for people with disabilities). We can also arrange "one-off" visits for groups. Please read on to find out more about us and what we provide.
About us
Companion Cycling is a scheme which enables people who are unable to ride "solo" cycles for whatever reason, to enjoy the pleasure of cycling with a companion in the delightful and traffic free surroundings of Bushy Park, adjacent to Hampton Court in South West London.
Anyone, whatever their ability or mobility, can become a cyclist using one of our special cycles and with the aid of a "pilot" who might be a carer, a friend, a family member or one of our volunteers.

A line up of our special cycles
Our wide variety of special cycles are carefully selected to enable people to ride whatever their ability. We have something for everyone, ranging from side-by-side pedal cycles suited to those with limited mobility, sight or co-ordination, through to a wheelchair "rickshaw" suited to riders with severely impaired mobility. In addition we have a range of tricycles with added safety features, a standard tandem and various conventional bicycles for accompanying riders. Our volunteers will help you to choose the cycle which is most suited to your needs, and will familiarise new riders and pilots with the cycles and the routes around the park.
The scheme operates in Bushy Park out of "The Stockyard" Environmental Education Centre which is located off the A308 between Hampton Court and Hampton (see the location map to find us). We have a recommended route around the paths in the park which is mostly traffic-free and is over four miles long if you choose to do the whole route – see the map of the CC route.
Apart from Companion Cycling there are a number of other activities that take place around the Stockyard and in the Park itself. We also have a delightful quiet picnic area next to our office and bike sheds so you can combine a cycle ride with a picnic.
HOAC (Hillingdon Outdoor Activities Centre)
(recommended to us by several parents!)
The HOAC website mainly describes sessions for SEN groups but several parents have reported that they take their young people there for individual sessions with great success. If your child / young person likes water activities, give them a ring to find out more.
From their website:
"HOAC is a lively water sports and activity centre providing access, training and outdoor experiences for both Individuals and Groups.
Our 45-acre lake is situated in an idyllic rural setting in West London. Sailing started in 1950 and the centre has since become a registered Youth Educational charity in 1992 (The Colne Valley Youth & Community Association) and is run in partnership with the London Borough of Hillingdon.
HOAC is accredited by AALA (Adventure Activities Licensing Authority), the RYA (Royal Yachting Association), and BR (British Rowing). An extensive range of activities are available for individuals, groups, schools, youth organisations, cadets and corporate events.
'HOAC welcomes everyone regardless of age, ability or aspirations'
For those wishing to learn new skills, we offer a range of training courses for beginners, intermediate and instructor level. We provide volunteer opportunities, of particular note is the 'Young Leader' programme which provides a route for young people aged 14-17 years to acquire leadership skills and eventually become instructors. For more information:
Junior Bees new football sessions
(recommended to us by a parent)
DATES: Every Saturday morning, TIME: 10:00am to 11:00am
VENUE: Junior Bees FC, Mervyn Road, Hanwell, London W13 9UW
- FREE OF CHARGE for first 10 weeks
- Open to participants aged 5-11 with disabilities or support needs.
- Train alongside other Junior Bees teams.
- Chance to compete in local inclusive league and play in competitions several times a year
For more information, email mariadiaper27@googlemail.com or
call 07947 966916
---
National Autistic Society advice:
Days out in England:
Autism-friendly performances are a fantastic way for people with autism to enjoy a live theatre show. These shows will have had adjustments made in the form of reduction to sound levels, some changes to lighting and loud sound effects and strobe lighting taken out. There will be a relaxed attitude to movement in and out of the auditorium and there will be some designated chill-out areas.
Alice in Wonderland (Relaxed Performance)
Holland Park, London
11 August 2016, 3.00pm

After three brilliant years, ecstatic reviews, more than 50 performances since its premiere in 2013 and following the hugely successful sell-out run at the Royal Opera House's Linbury Theatre, we are pleased to announce that we will be returning to the magical gardens of the Yucca Lawn in Holland Park for our second relaxed performance.

11-year-old Alice is jolted out of her bored daydreams in the school holidays when she meets a talking rabbit who insists she follow him to a mysterious Wonderland… In this fantastical place Alice comes across a number of peculiar characters, including a relaxed caterpillar, a happy cat, a depressive hare, a white knight, a romantic duchess, a mad hatter and a sleepy dormouse, and learns that all is not well in Wonderland: a mysterious (and very cross) Queen of Hearts seem distressingly keen to chop off everyone's heads…

This performance is held outside and is set at four different points around a small area in the park which means you need to move from one set to the next. The transition is done in a lovely way and there is no pressure to be seated before the next scene starts. The area is fenced off with plenty of staff on hand.
Tickets are £5 for children and £10 for adults.
To book please visit the Alice website.
Alton Towers offers special discount rates for up to three helpers of guests with a disability. Guests with a disability pay the full rate, but may be eligible for a Ride Access Pass which gives specific times for each ride. Please note that proof of disability will be required. Please see the 'FAQs and accessibility' section of Alton Towers' website for more information.
Beamish Museum in Beamish near Durham - also called The Living Museum of the North of England - is a great day out for all of the family. There is an annual charge so you can go as often as you like once you have paid once. A tram line goes round the museum, and you can hop on and off as many times as you like. The museum has accessible buses (one which takes wheelchairs) and is open all year round.
Bekonscot Model Village in Beaconsfield, Buckinghamshire, is recommended by the family of a person with autism, who suggest getting there when the village first opens. The attraction features six miniature villages and, for train lovers, a light railway for visitors to ride on and a model railway. The model railway usually has seven to ten trains running on it. There are concessions for children and adults with a disability, and carers go free.
Bournstream is an adventure playground for children with special needs or disabilities. It is completely enclosed and is situated near Wotton-under-Edge in the Cotswolds.
Bowood House in Calne, Wiltshire, is recommended by the NAS's branch in Avon. There is an adventure playground featuring a full-size pirates' galleon and, for younger visitors, the Soft Play Palace. Registered disabled visitors and a carer receive half-price admission to the house and grounds. Bowood House is open between April and October.
Brimham Rocks, near Harrogate in North Yorkshire, are cared for by the National Trust. The area features dramatic rock formations and families are invited to go 'scrambling' on the rocks and enjoy the spectacular views. The property is open year-round but may get busy in July and August.
Chessington World of Adventures, part of the Tussauds group which also includes Madame Tussauds, Alton Towers and Warwick Castle, is recommended as a fun day out for families. If you are able to provide photographic evidence of your disability (such as a blue or orange badge or similar), you will pay the full rate for your park entry ticket, but one helper will be admitted free of charge and one at a concessionary rate - providing the second is required to assist you on specific rides and attractions. You can also apply for a transferable helper's annual pass and a ride access pass. For more information see: www.chessington.com/plan-your-trip/disabled-guide.aspx.
Craggy Island indoor climbing centre in Guildford, Surrey is recommended by the parent of a child with autism: 'We booked an instructor for one-and-a-half hours and had a really great time. They had no problem with one of the party having an ASD and appeared to be used to having climbers with additional needs.'
Drayton Manor Theme Park near Tamworth in Staffordshire features rides, a zoo and Thomas Land, where children can go on the Thomas the Tank Engine ride. A parent recommends Drayton Manor as, with proof of of disability their son with Asperger syndrome and friends did not have to wait in long queues. See the 'Special needs guide' section of their website for more information.
Drusillas Park in Alfriston, East Sussex, has a Thomas & Friends visitor attraction, which takes children on a magical ride through landscaped gardens featuring the familiar faces and places in Sodor, Thomas the Tank Engine's home. The park also has a zoo and pet area, and Playland, which is packed with slides, swings, ropes and play equipment.
The East Anglian Railway Museum hosts Thomas days offering unlimited rides on character trains, with the Fat Controller welcoming visitors to the station.
Eureka! is an interactive children's museum and educational charity based in Halifax, West Yorkshire, where children play to learn and grown-ups learn to play. It has hundreds of interactive, hands-on exhibits designed to inspire children aged 0 to 11. All essential carers of disabled visitors get free admission - just bring along a form of ID. Eureka! also offers support for disabled children and their families: quite literally, an extra pair of hands, with a trained 'enabler' accompanying you during your visit. It also runs a range of events and clubs for children with disabilities, including one for children with autism.
Hartlepool's Maritime Experience admits one carer without charge when accompanied by a child with special needs. Located on the north east coast, it is a superb re-creation of an 18th-century naval seaport. A fascinating day out with lots of indoor and outdoor activities. See the costumed guides who can tell you all about life during the time of Nelson.
If you live in, or are visiting, Kent, you can download a free book called Visiting the Kent Countryside which is a guide to places to visit in the county. The booklet was written with contributions from two National Autistic Society schools.
Legoland Windsor admits one carer without charge when accompanying a disabled child. Visitors should bring evidence of disability. You may also be eligible for a ride access pass, allowing special access to ten rides.
"You can either ask for your carer's pass at the customer service window or better yet call ahead and it will be waiting for you! Also ask for their leaflet 'Guide for guests with disabilities'. The handicapped parking is very close to the entrance. I suggest being there by 9.30am so you are ready when the doors open at 10.00am and have about an hour before the crowds arrive. When it does get crowded go to the miniature village for an hour. The kids love it. The park is very brightly coloured and very visual. Now they have extended the season to include bonfire night and a special Christmas event. We bought off-peak season tickets and we go all year."
Father of a four-year-old with high-functioning autism
Legoland Windsor also allow children with with ASDs to go on rides without queueing.
"As Declan is unable to understand the concept of queuing, this was a Godsend and allowed him to enjoy the full experience of a theme park. If you have a list of ASD-friendly places to visit Legoland Windsor should go to the top of the list! When we visited, all four of us had a fantastic time. Every one of the staff was superb. They all made us feel very welcome and they all made a fuss of Declan (and his little brother). "
Robert Gibbs, parent of a boy with an ASD
Another recommendation on the caring attitude of staff at Legoland:
"I just wanted to praise Legoland. We have had our best day out EVER! Jacob (six) who is autistic was made to feel welcome, he could participate with his brother on all the rides and attractions which was very important to us. The staff were excellent with him, especially in the driving school when he was hugging the young girl helping him! The big, bright lego shapes and colours were ideal for keeping Jacob's attention. The exit pass scheme was fantastic and well-managed. Thank you, Legoland."
Darren Walsh, father of Jacob, aged six, who has autism
The London Eye offers a special discounted rate to disabled guests booking through the disabled booking line. An accompanying carer will receive a free ticket for the same 'flight'. Discounted rates vary for adults, children and the under-fives, so be sure to state the age of the person applying for the special rate. To book tickets, use the disabled booking on +44 (0)871 222 0188 or email accessiblebooking@londoneye.com.
"We visited the London Eye - it was amazing. As parents of an autistic child, we are full of praise for the way staff go out of their way to help disabled visitors. Our son is non-verbal and cannot tolerate long queues. However, when we explained the situation to staff, they quickly and efficiently led us to the head of the queue. This meant that we were all able to relax and thoroughly enjoy ourselves."
Mother of a child with autism
London Transport Museum in Covent Garden, London, is a great destination for a family day out. There are old buses and trains, some of which you can get behind the wheel and 'drive', plus special exhibitions and space for children to explore. The museum can get very busy during holidays - especially if the weather is poor - so for a quieter time try visiting 10am-11am and then from 4pm-6pm. Family learning workshops take place during holidays, including storytime and craft. There is no specific provision for special needs although the venue is mobility accessible. Children are free up to the age of 16, and paying adults can use their ticket multiple times over a year.
Middleton Railway, near Leeds, is the oldest working railway in the world. Visitors can ride on steam- and diesel-hauled trains and take part in various special events throughout the year. The railway welcomes visitors with disabilities, who are charged the normal ticket price but an accompanying carer goes free.
National Railway Museum is the largest railway museum in the world. With locations in York and Shildon, it offers a range of workshops for all ages, and has a railway-themed outdoor play area for younger visitors. They also have a miniature railway. Entry to both museums is free.
The Rare Breeds Centre near Ashford in Kent is set in 100 acres of countryside and is home to rare breed animals. The petting barn allows children and adults to get up close with the animals, and the Centre also has newly installed accessible play equipment. The Centre is run by the charity Canterbury Oast Trust; adults with learning disabilities volunteer on the farm and learn important life skills.
Tate Britain offers a range of free talks and workshops for adults with learning disabilities via its community programme. Admission to Tate Britain is free but there is a charge for special exhibitions – visitors with a disability pay a concessionary rate and carers go free.
Thames Valley Adventure Playground gives children with special needs the chance to see friends, run around and explore. Outside accessible activities include a bike/go kart area, sensory garden, treetop trail and sensory garden. Indoors there is a soft play area, a sensory room and a sound room. There is no charge but a donation of £8 per accompanied child is welcome.
Thorpe Park has a special guide for visitors with disabilities. Discounted tickets are available for people with documentary proof of disability and one helper. Visitors who are unable to use normal queue lines may be able to receive preferential ride access, as may a helper who is boarding the ride with them.
The Tower of London welcomes all visitors and has produced a short guide for children with autism and Asperger syndrome, their parents and families. The guide will tell you about the Tower's most popular sites, what you can expect to see, and how you can best plan your visit. Visitors with a disability are eligible for admission at the concessionary rate and a carer is given entry free of charge.
Thinktank is Birmingham's science museum. It offers concessionary prices for people in receipt of benefits - evidence is required. The museum can provide workshops for groups of people with learning disabilities, and has also produced a downloadable social story for visitors. Please see the 'Accessibility' section of their website for more information.
Wingham Wildlife Park near Sandwich in Kent, is enjoyed by the NAS Dover and Deal Branch. There are animals and birds to see and the park organises hands-on days where children can hold some of the animals. There is also an indoor soft play area and an outdoor adventure park